DOK
NEREA BARJOLA RAMOS
She holds a PhD in Feminisms and Gender from the University of the Basque Country (UPV-EHU), a degree in Political Science and Administration, and is a feminist writer and activist. In 2018 she published Microfísica sexista del poder. El caso Alcàsser y la construcción del terror sexual (Virus, 2018). Currently, she combines the creation of essays and literary texts with different commissioned works related to equality policies. In 2021 she received recognition in the category of Best Work for Social Transformation for Microfísica sexista del poder, awarded by the Ministry of Equality.
JOANA DE SOUSA
De Sousa is a cultural producer, curator and filmmaker. Over the years, she has developed several interdisciplinary projects. From 2015 to 2023, was a programmer at Doclisboa – International Film Festival, being part of its direction between 2019 and 2022. Since 2023, she is responsible for the promotion and dissemination of the archival collection at Cinemateca Portuguesa. She is also part of the artistic collective Rabbit Hole. Her films mainly deal with bodily perceptions, dreams and post-human explorations.
MARÍA ZAFRA CORTÉS
Zafra holds a degree in Sociology (University of Granada) and a Master's degree in Theory and Practice of Creative Documentary (UAB, Barcelona). She has worked as a documentary filmmaker and editor in collaboration with several production companies and organizations. She has directed, among others, the pieces Memorias, norias y fábricas de lejía (2011), El recolector de recuerdos (2011) and the feature documentary Arreta (2016). She has combined her work as a filmmaker and editor with teaching. She is part of the Fils Feministes. Fem memòria, Fem història research project and was a founding member of Cooptècniques. She also worked as a programmer and coordinator of L'Alternativa Independent Film Festival of Barcelona (2006-2011) and is currently director of the Mostra Internacional de Films de Dones de Barcelona.
ZUZ MARTIN SEGARRA
Comic book artist since 2010 and queer non-binary and feminist activist. Their long works include Alicia en un mundo real, Annemarie and Residencia de Estudiantes. Their works always start from a dissident, critical and committed point of view, as is also the case in the comics Irse o morir, or Black is beltza II: Ainhoa, in which they adapted the cinematographic script of the film.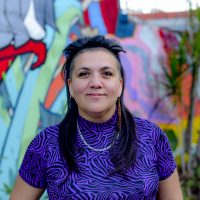 LUCRECIA MASSON
As an Argentinean researcher, she works in the fields of art, theory and activism. Some of the forms her work takes are writing, performance, research and teaching. She is an anti-racist, disobedient to heterosexuality, migrant, transfeminist and autoimmune fat. She holds a degree in Political Science from the University of Buenos Aires and a Masters in Museum Studies and Critical Theory from the Independent Studies Programme (PEI 2014-2015) from MACBA and UAB. She belongs to the anti-colonial art collective Colectivo Ayllu, whose creations are part of the collection of the Museo Reina Sofía and the Centro de Arte 2 de Mayo (CA2M). She has published the book Escrituras rumiantes.
LAURA PEDRO
With a degree on Visual Effects from the Efectos Visuales en la Escola Superior de Cinema i Audiovisuals de Catalunya – ESCAC, she has been part of El Ranchito company since 2015. She began her career as visual effects supervisor on set in A Monster Calls (J.A. Bayona, 2016), and years later she played the same role in Superlópez, for which she won her first Goya and the Gaudí for Best Special Effects. As a consultant on shootings, she is in charge of the design to find the optimal and appropriate solutions for each production, from pre-production to final delivery, always following the creative process with the team of artists. She is currently supervising La sociedad de la nieve (Netflix) together with Félix Bergés.
MARIONA BORRULL
Mariona is a film critic for Fotogramas and write regularly for Gara, El Cultural and Sensacine. Listen to them in every week on Radio 4's "Va de cine" and on SER Catalunya's "Tot es comèdia". They co-present the anime podcast "Sopa de miso" and is a series specialist on Betevé's "Plaza Tísner". Mariona covers Class A film festivals combine with university teaching (UPC) and the programming at Most Festival and l'Alternativa, for whom they also manage press. Mariona was Berlinale Talents 2022.
CÉDRIC SUCCIVALLI
Is a programmer and film critic. He graduated from the University of Aix-Marseille. He went on to study at the University of Paris VII Denis Diderot, with a thesis on David Cronenberg's Crash. He has served as President of the International Cinephile Society for eighteen years, and during that time he has been regularly attending and writing about festivals around the world. In 2018 he became a programmer for the Giornate degli Autori sidebar section of the Venice Film Festival. One of his main focuses has been to bring more queer cinema to Venice. He is a member of the French Syndicate of Cinema Critics (SFCC), L'Académie des Lumières, International Federation of Film Critics  (FIPRESCI) and a Golden Globe international voter.
IRATI URRESTARAZU
Urrestarazu combines her work as an artist and curator. She is a founding member of the Okelako Sormen Laboratory since 2014. She has as well been a member of the Artiatx space from 2020 until 2023. Her works have been exhibited at the Instituto Cervantes in New Delhi, Bilboarte, the Contemporary Art Centre in Huarte, the Gabinete Abstracto in the Sala Rekalde and the NY Gallery in London, among others. In 2020, she won the prize for the best young artist in Navarra in the field of Visual Arts. 
DIVERSITY AND HUMAN RIGHTS JURY
Andrea Barrones – Amnistía Internacional
Gorka López Arantzamendi – Festival Internacional de Cine Invisible, Film Sozialak
Ainhoa López Rodríguez – BFA / DFB
LESBIANISM AND GENDER JURY
Celeste Agüero González – Ukatu
Arantxa Catarino de la Calle, Cris Lizarraga Iñarritu, Pilar Parra Leo, Sol Barredo, Zuriarrain, Ekain Pliego Trujillo – Bilera
JURY COMPRISED BY PROFESSIONAL PERFORMERS FROM THE BASQUE COUNTRY
Ainhoa Jauregi
Diego Pérez
Leire Ucha
YOUTH JURY
UPV/EHU, ECPV/EHZE, BAI Bizkaiko Antzerki Ikastegia
Students: Lucas Alves Pérez, Oihan Astigarraga Ansoalde, Laura Besada Garrido, Ainhoa Casado Gómez, Ivana Coca Turiel, Amets Larrea, Maria Rueda, Gabriel Quiñones Espinal.
SENIOR JURY
Shaped by Biscay seniors and representatives from various adult education centers. Mari Jose Agirre Laborda, Asun Amillategui Uriarte, Alberto Elorriaga Zárraga, Itziar Foruria Atxabal, Estibaliz Larreategi Cuadra, Ane Miren de Lasa Garamendi, Itziar Pilar Alberdi.